About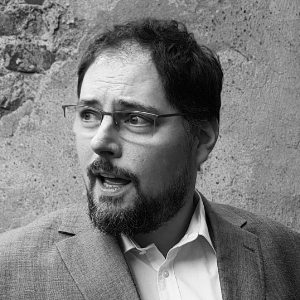 Hi, I'm Lutz Schmitt
I'm a graduated Designer and professional dilettante. I'm a freelancer. I can fill in roles as Design Manager, Strategy Consultant, Experience Designer and Information Architect. I might join for a project or as interim placement.
You can also book me for classes, coachings and talks on various topics from Systemic design, Design for Emotion, Privacy Design to connected services and products. I can run your Design Thinking or Journey Mapping workshops as well as facilitating Design Studios or Design Sprints.
I'm also a hilarious comedian, according to some who cared to listen to "Being an Evil Mastermind".
With roundabout twenty years of experience in and with digital media and working four years as a UX team lead and leading many projects, I know how to create value for users and business and how to get things done in time and budget.
---
Curriculum Vitae
Designing is a way of thinking and not a craftmanship. Nonetheless, during the years I got involved into the crafts of Interaction Design, Game Design, Cooking, Information Architecture, Industrial Design, Graphic Design, Typography, Finance Management, Art Direction, Event Direction, User Research and some more. Some I mastered at some I stayed a humble apprentice. Some jobs paid my rent, some earned me experience.
2018 till now: Freelance Designer & Consultant
2014 - 2017: Head of Consulting Unit Interaction, nexum AG
2008 - 2014: (Senior) Consultant UX, nexum AG
2006 - 2007: Co-Founder and Program Manager, Cologne Game Lab
2000 - 2008: Self-Employed Designer
1999 - 2000: Trainee Web Design, 01 Digitales Design GmbH
---
Public Speaking & Teaching
I'm a regular speaker at industry and community events on various topics for many years. Most of my talks and workshops are available in German and English.
Check here for upcoming appearances.
Previous talks and lectures
ProfsoUX 2019 St. Petersburg: Talk on "Design is Invisible" & master-class "UX Survival"
UX Day Mannheim 2017 - Talk on "Privacy by Default"
IA Summit Vancouver 2017 - Talk on "Privacy by Default"
Euro IA Summit
German IA Summit Berlin

2016: Case Study on Coop Strategic Relaunch
2017: Talk on Privacy by Default

UX Sofia 2015 - Workshop "Pragmatic UX" & Talk "Design is invisible"
WebExpo Prague 2012 - Talk "Critical Interface Design"
UXcamp West Düsseldorf 2016 - Closing Keynote
Event Organisation
While it is a shitload of work, organising events is very rewarding.
In 2015 I had the opportunity to co-chair the EuroIA Summit in Madrid together with Stuart Curran and Peter Bogaards.
For a while I directed and produced the Cologne edition of the Design for Conferences:
7th Design for Experience - Cologne 2013
6th Design for Conversion - New York City 2012 (staff member)
4th Design for Conversion - Cologne 2011
3rd Design for Conversion - Cologne 2010